Byte Podcast 537 – ¡Ya estamos en Spotify!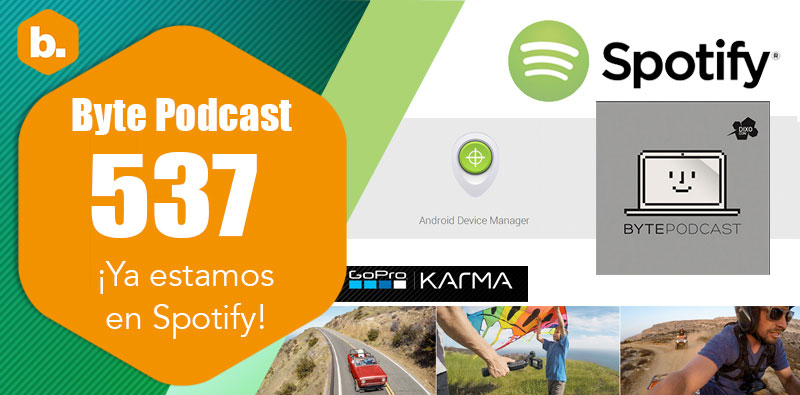 Esta semana, en Byte Podcast 537, las noticias incluyen el relanzamiento del dron Karma de GoPro, y la llegada de este podcast a Spotify, desde donde ya pueden suscribirse. Les platico mi experiencia con AT&T México después de usarlo durante un mes, en México y en el extranjero, y les doy detalles de la app Energizer Music, que les da acceso a música en su smartphone durante 30 días si compran unas pilas con esta promoción.
Les recuerdo que en las versiones modernas de Android existe la manera de localizar remotamente sus dispositivos cuando los extravían o se los roban, para hacer que suene, o para borrar el contenido de los mismos.
Cerramos con La Aplicación Móvil de La Semana, The Fabulous, que les ayuda a crear hábitos saludables, de manera gradual y estudiada.
Byte Podcast # 537 – Descarga directa

Byte, tecnología aplicada… a la vida. Podcast 537.
Duración: 30:12 minutos
Enlaces:
GoPro Karma, versión corregida y aumentada
Byte Podcast en Spotify
Android Device Manager
The Fabulous, gratis para Android
Grabado en el estudio de Dixo.com.
Podcast: Play in new window | Download
---